Biography
Edit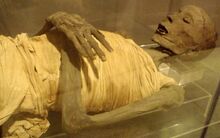 Usermontu - meaning "Powerful is Montu" is a well preserved Egyptian mummy from the upper-class that is approximately 5 feet tall (1.5 m) and is a natural redhead. In the 1970s the Rosicrucian museum
obtained the coffin and found out afterword that a mummy was still inside. Investigations found later that the mummy is not the original owner of the sarcophagus, it was intended to be for a priest named Usermontu, and long after death this mummy was placed inside the coffin.
In August 1995, and x-ray was performed on the mummy which found that it has previously undergone a sophisticated procedure in which a orthopaedic pin had been inserted into the left knee. From the x-ray alone it was thought that the pin was a modern addition in order to keep the body parts in tact because of how advanced the surgical procedure was from 2,600 years before. Further investigations found that the pin was inserted before the death of the mummy, becoming the first case of orthopaedic implant.
References
Edit
Medical Mystery of Usermontu: Why the Discovery of 2,600-Year-Old Knee Screw Left Experts Dumbfounded. (n.d.). Retrieved December 3, 2015, from http://www.ancient-origins.net/artifacts-ancient-technology/medical-mystery-usermontu-why-discovery-2600-year-old-knee-screw-020445
Ad blocker interference detected!
Wikia is a free-to-use site that makes money from advertising. We have a modified experience for viewers using ad blockers

Wikia is not accessible if you've made further modifications. Remove the custom ad blocker rule(s) and the page will load as expected.