Content: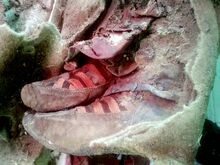 Biography
Mummification
References
Biography:
Archaeologists in Mongolia are slowly unwrapping the mummy of a suspected ancient woman found preserved in the Altai Mountains.  So far only one hand and her feet in modern-looking boots are visible, but experts believe the find dates to around 1,500 years ago. It also appears to be the first complete Turkic burial in Central Asia and the remains were found at an altitude of 9,200ft (2,803 metres).
Mummification:
Researcher B.Sukhbaatar, from Khovd Museum, said: 'This person was not from the elite, and we believe it was likely a woman, because there is no bow in the tomb.  'Now we are carefully unwrapping the body, and once this is complete the specialists will be able to say more precisely about the gender.'
A host of possessions were found in the grave, offering a unique insight into life in Mongolia in around the 6th century AD.
References:
http://www.dailymail.co.uk/sciencetech/article-3533493/Ancient-mummy-unearthed-Mongolia-6th-century-Turkic-woman-buried-sacrficed-horse-beautifully-stitched-clothes-1-500-years-ago.html
Ad blocker interference detected!
Wikia is a free-to-use site that makes money from advertising. We have a modified experience for viewers using ad blockers

Wikia is not accessible if you've made further modifications. Remove the custom ad blocker rule(s) and the page will load as expected.