Terézia Hausmann
Human Mummy
File:.jpg
Biographical Information
Name(s)
Age
Sex
Status
Height
Source
Culture
Date(s)
Site
Current Location
Location
Catalog #
Biography:
female

28 years old
died of tuberculosis
approximately 200 years old
found in a crypt in Hungary
Mummification:
found among 242 other bodies
naturally mummified
Studies:
DNA was extracted from the mummified body to study and give more insight into tuberculosis when it was most prevalent
References :
Donoghue H. (2013). How a 200-year-old mummy revealed secrets of TB. Retrieved from http://theconversation.com/how-a-200-year-old-mummy-revealed-secrets-of-tb-16209
Hungarian mummies had 12 different strains of TB (2015). Retrieved from http://www.thehistoryblog.com/archives/35809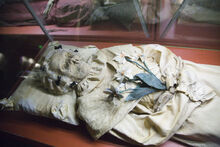 Ad blocker interference detected!
Wikia is a free-to-use site that makes money from advertising. We have a modified experience for viewers using ad blockers

Wikia is not accessible if you've made further modifications. Remove the custom ad blocker rule(s) and the page will load as expected.