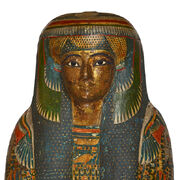 Tayesmutengebtiu
Human Mummy
File:.jpg
Biographical Information
Name(s)
Tayesmutengebtiu
Age
(30 year+)
Sex
Female
Status
Height
157 cm (5 feet 2 inches)
Source
Culture
Egyptian
Date(s)
Early 22nd Dynasty, about 900 BC
Site
Thebes, Egypt
Current Location
Location
The British Museum
Catalog #
Biography
Edit
This mummy, known as Tamut, is believed to have been a singer of Egypt's Temple of Karnak in 900 BC. As the daughter of an elite priest, she is called "Lady of the House" and "Chantress of Amun."
Mummification
Edit
She was found near Egypt's Nile Valley.
CT scans reveals she died in her early thirties.
Pathology 
Edit
Signs of aherosclerosis (plaque in the arteries) and dental abscess were found in this mummy.
Additional Info
Edit
http://www.britishmuseum.org/whats_on/past_exhibitions/2014/ancient_lives,_new_discoveries/eight_mummies.aspx#Tamut
References
Edit
Ad blocker interference detected!
Wikia is a free-to-use site that makes money from advertising. We have a modified experience for viewers using ad blockers

Wikia is not accessible if you've made further modifications. Remove the custom ad blocker rule(s) and the page will load as expected.