Sangha Tenzin of the Gue Village
Human Mummy
File:.jpg
Biographical Information
Name(s)
Age
Sex
Status
Height
Source
Culture
Date(s)
Site
Current Location
Location
Catalog #
Biography
Edit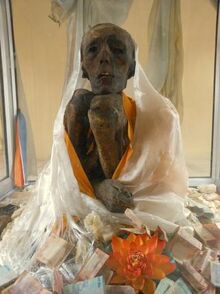 Naturally mummified through ascetic and renunciatory practices, Sangha Tenzin is one of the very few well-known Buddhist monks who began the mummification process while he was alive. Typical of the Buddhist notion of mummification, Sangha Tenzin began to starve himself to reduce the fat in his body that would rot after his passing and also ran candles along his skin to dry it out. He died in a seated pose and was kept in the same pose as his body was placed in an underground room to fully dry out. After this, Sangha Tenzin's mummified body was put into a tomb, which was later discovered in northern India after an earthquake in 1975. 
In 2004, the extremely well-preserved mummy of Sangha Tenzin was excavated and was eventually placed in a public temple in the village of Gue, where it remains today.
Mummification
Edit
Pathology
Edit
Additional Info
Edit
External Links
Edit
References
Edit
Otto, M. R. (n.d.). Mummy of Sangha Tenzin. Retrieved January 30, 2016, from http://www.atlasobscura.com/places/the-mummy-of-sangha-tenzin
Ad blocker interference detected!
Wikia is a free-to-use site that makes money from advertising. We have a modified experience for viewers using ad blockers

Wikia is not accessible if you've made further modifications. Remove the custom ad blocker rule(s) and the page will load as expected.