Rosita
Human Mummy
File:.jpg
Biographical Information
Name(s)
Rosita
Age
Sex
Female
Status
Height
Source
Culture
Ichma
Date(s)
Site
Current Location
Location
Catalog #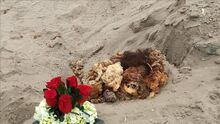 Biography
Edit
A partially unearthed preColumbian mummy was found near a busy thoroughfare in La Molina, a residential area of the Peruvian capital.
The discovery was made Wednesday night by a municipal watchman as he was making his rounds on Viña Alta hill, next to Raul Ferrero Avenue.
Enough of the funeral shroud was exposed for the watchman to detect the skull of the mummified woman.
Wrapped in cotton and woven blankets and encased in a basket made of dried stalks, the body was accompanied by ears of corn and other farm products.
Police called in anthropologist Manuel Grados, who said a preliminary evaluation indicated the mummy might belong to the Ichma culture, which flourished between the 10th and 15th centuries in the area of presentday La Molina.
Authorities have cordoned off the area pending the arrival of experts from the Culture Ministry who will transfer the mummy to a museum.
Some Viña Alta residents dubbed the mummy "Rosita" and placed flowers at the site.
Mummification
Edit
Pathology
Edit
Additional Info
Edit
External Links
Edit
http://www.sandiegouniontribune.com/hoy-san-diego/sdhoy-pre-columbian-mummy-found-in-perus-capital-2015oct16-story.html
Ad blocker interference detected!
Wikia is a free-to-use site that makes money from advertising. We have a modified experience for viewers using ad blockers

Wikia is not accessible if you've made further modifications. Remove the custom ad blocker rule(s) and the page will load as expected.