Oddernes Church Mummies
[[File:

|210px|]]
Biographical Information
Name(s)
"the Princess"
Age
N/A
Sex
Female
Status
Height
Source
Culture
Date(s)
16th Century

Uncovered in 1973

Site
Current Location
Location
Vest-Agder county, Norway
Catalog #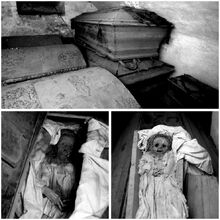 These mummies were found under a church in Southern Norway. Wealthy people were buried in a small crypt below the church's altar.
The little girl mummy is simply known as "the Princess"
The crypt has been sealed since 1973.
Mummification
Edit
Unknown
Pathology
Edit
Additional Info
Edit
External Links
Edit
https://www.reddit.com/r/creepy/comments/5zv3jg/mummies_underneath_my_local_church_dates_back_to/
References
Edit
Ad blocker interference detected!
Wikia is a free-to-use site that makes money from advertising. We have a modified experience for viewers using ad blockers

Wikia is not accessible if you've made further modifications. Remove the custom ad blocker rule(s) and the page will load as expected.