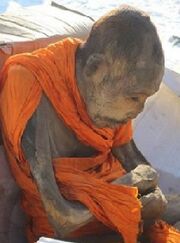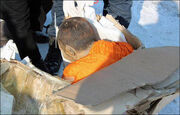 Mummified Monk
Biographical Information
Name(s)
Monk
Age
200 years old
Sex
Male
Status
Height
Unknown
Source
Culture
Buddhist Monk
Date(s)
Site
Current Location
Location
Songinokhairkhan province of Mongolia
Catalog #
Biography
Edit
A mummified monk found in the lotus position in Mongolia is 'not dead' and is instead one stage away from becoming a real-life Buddha, it has been claimed.
Mummification
Edit
Forensic examinations are under way on the amazing remains, which are believed to be around 200 years old, having been preserved in animal skin.
Pathology
Edit
Dr Barry Kerzin, a famous Buddhist monk and a physician to the Dalai Lama, said: 'I had the privilege to take care of some meditators who were in a tukdam state.
'If the person is able to remain in this state for more than three weeks - which rarely happens - his body gradually shrinks, and in the end all that remains from the person is his hair, nails, and clothes. Usually in this case, people who live next to the monk see a rainbow that glows in the sky for several days. This means that he has found a 'rainbow body'. This is the highest state close to the state of Buddha'.
He added: 'If the meditator can continue to stay in this meditative state, he can become a Buddha. Reaching such a high spiritual level the meditator will also help others, and all the people around will feel a deep sense of joy'.
Additional Info
Ganhugiyn Purevbata, who is the founder and professor of the Mongolian Institute of Buddhist Art at Ulaanbaatar Buddhist University, said: 'Lama is sitting in the lotus position vajra, the left hand is opened, and the right hand symbolizes of the preaching Sutra.
'This is a sign that the Lama is not dead, but is in a very deep meditation according to the ancient tradition of Buddhist lamas'.
The mummified remains, which were covered in cattle skin, were found on January 27 in the Songinokhairkhan province of Mongolia.
External Links
Edit
References
Edit
http://siberiantimes.com/other/others/news/n0105-mummified-monk-is-not-dead-and-in-rare-meditative-state-says-expert/
Ad blocker interference detected!
Wikia is a free-to-use site that makes money from advertising. We have a modified experience for viewers using ad blockers

Wikia is not accessible if you've made further modifications. Remove the custom ad blocker rule(s) and the page will load as expected.