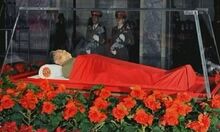 Kim Jong-il Edit
Birth: 16 February 1941
Death: 17 December 2011
Living: Kim Jong-il was the supreme leader of the Democratic People's Republic of Korea (DPRK). This is also known as North Korea, from 1994 to his death in 2011. During his reign he took on many important jobs such as General Secretary of Workers' Party of Korea,the Supreme Commander of the Korean People's Army (KPA), Chairman of the National Defence Commission (NDC) of North Korea and to conclude the fourth-largest standing army in the world. Kim Jong-il's leadership is thought to have been even more dictatorial than when his father reigned. Outside of Pyongyang it was reported tha tKim Jon-il died of a suspected heart attack on December 17, 2011 at 8:30 a.m.
references:
☀https://en.wikipedia.org/wiki/Kim_Jong-il
www.ibtimes.com
Ad blocker interference detected!
Wikia is a free-to-use site that makes money from advertising. We have a modified experience for viewers using ad blockers

Wikia is not accessible if you've made further modifications. Remove the custom ad blocker rule(s) and the page will load as expected.