Biography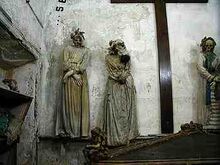 One who travels throughout Italy specifically three small villages and towns, Palermo an island off Sicily just south of the mainland, Ferentillo north east of Roma, lastly Bolzano near the Austrian border ancient Italian human mummies are perceived.  
Mummification
 It all started in 1599, when a brother named Silvestro of the Capuchin Monk order died and his remains were placed in a well located in Palermo. The soil in this region after nine months helped with the mummification and his remains eventually mummified. 
Studies
 In Palermo after the mummification of brother Silvestro, monks by the thousands wanted to be mummified when death came to the individual. By 1881 when mummification became outlawed the soil of the crypt contained over 1,000 mummified bodies. 
Pathology
 Various factors prior to ones death plays huge role in the mummification process. Dietary factors impacts the individuals mummification ordeal. Furthermore, certain soil can aid in the preservation of the body. 
Additional Info
 Italy has undergone a massive mummification ordeal dating back to the 16th century. Children, priests, professionals, unmarried virgin women whom had metal band around their heads to verify their status, and monks all were mummified and still can be viewed today. 
External Links
Ad blocker interference detected!
Wikia is a free-to-use site that makes money from advertising. We have a modified experience for viewers using ad blockers

Wikia is not accessible if you've made further modifications. Remove the custom ad blocker rule(s) and the page will load as expected.