Gunnister Man
Human Mummy
Biographical Information
Name(s)
Gunnister Man
Age
Dated back to late 17th and early 18th century
Sex
Male
Status
Unknown
Height
Unknown
Source
Culture
Unknown, but possibly from a foreign country
Date(s)
Found in May 12th, 1951
Site
peat bog not far from the junction of the A970 road
Current Location
Location
Gunnister, Shetland, Scotland
Catalog #
Biography: The style of the man's clothing, and coins found in his purse, dates his death to around 1700. While the acidic conditions in the peat rotted much of the body, it kept his clothes and other items incredibly well-preserved.
Mummification: Acidic conditions in the peat in Scotland, rotted much of the body. However, his clothes and other personal items were well-preserved.
Studies: The knitted purse found with the mummified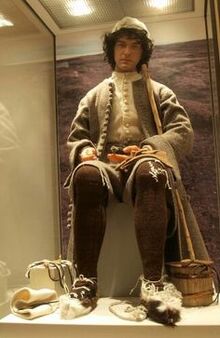 body, is believed to be the earliest example of two-color knitting in Shetland.
Pathology: His remains suggests that he was walking in wintertime, and possibly died of exposure or illness.
Additional Info: All objects in the original findings are in the collection in National Museums of Scotland. These objects includes stockings, purses, gloves, leather belt, knife handle, a quill, and open-work knitting.
External Links: http://www.wikiwand.com/en/Gunnister_Man
By Peter Z
Ad blocker interference detected!
Wikia is a free-to-use site that makes money from advertising. We have a modified experience for viewers using ad blockers

Wikia is not accessible if you've made further modifications. Remove the custom ad blocker rule(s) and the page will load as expected.