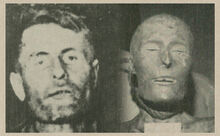 www.listverse.com/2009/12/24/top10-famous-mummified-bodies
www.mummipedia.wikia.com/wiki/The_Bandit_Who_Wouldn't%27+_Give_Up
BiographyEdit
Elmer McCurdy was an outlaw killed in a gunfight in the Osaga Hills of Oklahoma.  Elmer was born in 1880 and died October 7th 1911.
It was said that Elmer's last words were "You'll Never Take Me Alive!"
Elmer was taken to a funeral home in Oklahoma and when no one claimed his body the undertaker took it and
had it mummified.  Elmer was displayed in showcases at carnivals and musuems for money.