Biography
Edit
Thothirdes, was a middle-class or middle-ranking official, that had no heart, which Herodotus tells us should be there, the internal organs were stuffed back inside, and the brains are not thoroughly scraped out. Usually when we teach what Herodotus says we only talk about what Herodotus refers to as the most expensive method, that the heart remains, the brain comes out, the organs are mummified separately. But he does go on to say that there are two cheaper methods. You can do it by an injection that liquefies all of the internal organs. There is also a method by enema that can be done, which he described as very cheap. There seem to be many things in between. And the thing is that Herodotus is talking about a particular time period, he was in Egypt in the 5th century B.C. 
Coffin of Thothirdes, 768-545 B.C.E., or 791-418 B.C.E. Wood, paint, Coffin Box (approximate): 22 x 7 5/16 x 69 in. (55.9 x 18.5 x 175.3 cm) contains the mummified remains of the Priest Thothirdes
Creative Commons-BY (Photo: Brooklyn Museum, 37.1521Eb_PS9.jpg)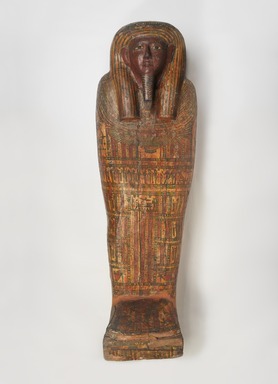 (Photo: Brooklyn Museum, 37.1521Eb_PS9.jpg)
Mummification
Edit
Neither Thothirdes nor Hor, who were 22nd Dynasty, immediately in the next period, had a heart, which is an indication that they would have had the cheaper method of mummification. They both seem to have canopic packets, which Pasebakhaemipet doesn't have. Canopic packets are when they mummify the organs and then they put them back in the body, rather than removing them completely and placing them in canopic jars.
Pathology
Edit
The new scientific methods which are available to us for analysis allow us to be more respectful of the artifacts than people were before. We can, for example, look at the completely wrapped mummy of Thothirdes, but we can see inside, because of CT scanning and digital X rays, we are able to look inside, to ask questions of how mummification changed over periods of time. And we are able to do it in a completely nondestructive way. In the past, if you wanted to ask such questions, you had to unwrap the mummies. So one of the points I wanted the public to understand is that modern science has given us tools of analysis that allow us to be much more respectful of the artifacts.
Hothirdes and Hor were misidentified as women in the '20s, or probably even in the teens. We have inventory cards, but people didn't always date their cards and comments so we're not exactly sure. That was when Thothirdes and Hor still belonged to the New-York Historical Society. Finding out the sexes, that kind of thing, we identified very quickly because we know where to look. Things like cause of death, they have to take a much wider look for trauma, because the organs aren't there any longer. They can't say 'oh he had a heart attack', or kidney failure or something like that. They can look for diseases of the bone.
Additional Info
Edit
Brooklyn Museum, Charles Edwin Wilbour Fund, 37.1521Ea-b.
External Links
Edit
References
Edit
http://archive.archaeology.org/online/interviews/edward_bleiberg/
http://archive.archaeology.org/online/interviews/brooklyn_mummies/
Ad blocker interference detected!
Wikia is a free-to-use site that makes money from advertising. We have a modified experience for viewers using ad blockers

Wikia is not accessible if you've made further modifications. Remove the custom ad blocker rule(s) and the page will load as expected.