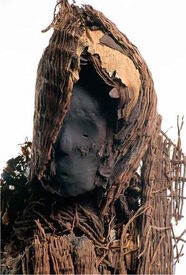 Chinchorro
A Chinchorro mummy
Biographical Information
Name(s)
Chinchorro Mummies
Age
7,000 years old
Sex
M/F
Status
Upper, Middle and Lower Class
Height
n/a
Source
Culture
South American
Date(s)
5000 B.C. to 2000 B.C.
Site
South America
Current Location
Location
Southern Peru and Northern Chile
Catalog #
n/a
Biography
Chinchorro mummies are the world's oldest known mummies, they range from 4,000 to 7,000 years old. The Chinchorro mummies were discovered in the Andes, Chilean region Approximately 7,000 years ago, South Americans began the preservation process. Chinchorro refers to the people who inhabited on the coast of Northern Chile and South
ern Peru. Chinchorro's relied on fishing, hunter and gathering for food and shelter. The first Chinchorro mummy was identified in 1917 by Max Uhle, a German archaeologist.
Mummification
The ancient Egyptians were not the first to mummify the dead, the South American culture began the mummification process approximately two thousand years before the Egyptians. The Egyptians were known for mummifying the rich, higher class individuals. In the South American Chinchorro culture, all deceased individuals were mummified, regardless of their social class, including children, miscarried fetuses, infants and the elderly.
Max Uhle, a German archaeologist who discovered Chinchorro mummies, found that there were 2 very common methods of Chinchorro mummification - Black and Red Mummy.
The Back Mummy technique was used from 5000 B.C. to 3000 B.C. This involved dismembering the body's limbs. The body's arms, legs, and arms were dismembered. Then, the body was heated, dried and the flesh was stripped off of the bones. The skull was then cut into two, material was stuffed into the skull and then sewn back together. They entire body was packed with materials (ie. clay, feathers, etc.) and then reassembled.
The Red Mummy technique was used from about 2500 B.C. to 2000 B.C.. This involved incisions into the body, removal of internal organs and drying out the body cavity. Just like the Black Mummy technique, the body was packed with material, to make the body more human - like. A wig made out of human hair was placed on the head, and a hat made out of black clay was placed on the mummy. The entire body, excluding the wig and face, was painted with red ochre.
External Links
http://www.ancient-origins.net/ancient-places-americas/7000-year-old-chinchorro-mummies-andes-001947
http://www.excommunicate.com/chinchorro-the-worlds-oldest-mummies/#axzz3rOuMlArQ
http://ngm.nationalgeographic.com/1995/03/chinchorro-mummies/arriaza-text
http://webecoist.momtastic.com/2013/02/01/most-intriguing-mummies-perfectly-preserved-human-bodies/
Ad blocker interference detected!
Wikia is a free-to-use site that makes money from advertising. We have a modified experience for viewers using ad blockers

Wikia is not accessible if you've made further modifications. Remove the custom ad blocker rule(s) and the page will load as expected.