Cheops Alien Mummy
Biographical Information
Name(s)
Alien
Age
Sex
Status
Height
Source
Culture
Date(s)
Site
Current Location
Location
Cheops
Catalog #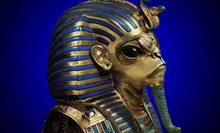 Biography
Edit
In 2000, a mysterious story was published in the Egyptian magazine Rose El-Yussuf. In the article it says a French Egyptologist named Louis Caparat found a secret chamber with a tomb inside of it in the Freat Pyramid of Cheops.
Mummification
Edit
Inside the tomb was lying an alien humanoid that seems to be in a dormant state. Scientist also discovered an ancient papyrus which descirbed and informed that one day in the future aliens will be arriving to Earth.
The hireoglyphs said drawn up the creature was an alien messenger who had came at the time of Pharaoh Cheops in Egypt, He had been sent to eart the announce the arrival of his brother says Rose al-Yusuf magazine.
Pathology
Edit
Additional Info
Edit
External Links
Edit
References
Edit
10 Mysterious Mummies From Around The World. (2014, September 29). Retrieved March 14, 2017, from http://www.messagetoeagle.com/10mysteriousmummies.php#.WMd5LxLyuMI
Code, A. (2016, June 02). Mysterious Alien being discovered in a Secret Chamber inside the Great Pyramid in Egypt. Retrieved March 14, 2017, from http://www.ancient-code.com/mysterious-alien-being-discovered-in-a-secret-chamber-inside-the-great-pyramid-in-egypt/
L. (2015, July 27). Mysterious Alien Mummy in the Pyramid of Cheops in Egypt. Retrieved March 14, 2017, from http://lionsgroundnews.com/alien-mummy-pyramid-cheops-egypt/
Ad blocker interference detected!
Wikia is a free-to-use site that makes money from advertising. We have a modified experience for viewers using ad blockers

Wikia is not accessible if you've made further modifications. Remove the custom ad blocker rule(s) and the page will load as expected.