Charles Eugène de Croÿ

Edit
Birthdate:
<time>1651</time> 
Death:
1702 (Age:51)
Cause of death:
Natural Death in Prison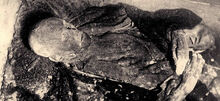 A Short Biography Edit
Charles Eugène de Croÿ (1651–1702) was a field marshal and Duke of the House of Croÿ in France. He married Wilhelmina Juliana van den Bergh. She was 13 year older than him and they did not have any children to continue his legacy. He fought for Norway in the 1676 Battle of Lund. He Also fought on Austria's side on multiple Occasions. De Croy was also a part of some of Europe's historical events such as the 1683 Vienna Liberation. After his promotion to imperial Field Marshal he started Serving the Russians as a general commander. Later on in the year 1700 he was captured and taken to prison during the war against Sweden and he lived as a prisoner for two years until he was finally put down in the year 1702 in the age of 51. His Body was Mummified for 190 years and was rested at the St Nicholas church.
Ad blocker interference detected!
Wikia is a free-to-use site that makes money from advertising. We have a modified experience for viewers using ad blockers

Wikia is not accessible if you've made further modifications. Remove the custom ad blocker rule(s) and the page will load as expected.