Brooklyn Museum
Accession Number:         37.1382E
Title:

                                

Ibis Mummy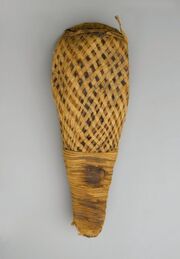 Date:                                740-380 B.C.E.
Period:                             Third Intermediate Period to Late Period
Place made:                    Egypt, Africa
Medium:                          Animal remains, linen
Dimensions:                    5 1/4 x 5 5/8 x 15 3/4 in. (13.3 x 14.3 x 40 cm)
Credit Line:                     Charles Edwin Wilbour Fund
Open Collections Reference Page:
http://www.brooklynmuseum.org/opencollection/objects/117933/Ibis_Mummy/image/27073/image
Ad blocker interference detected!
Wikia is a free-to-use site that makes money from advertising. We have a modified experience for viewers using ad blockers

Wikia is not accessible if you've made further modifications. Remove the custom ad blocker rule(s) and the page will load as expected.