Admiral John Paul Jones
Human Mummy
Biographical Information
Name(s)
Admiral John Paul Jones
Age
Mummified body is over 225 years old (to date)
Sex
Male
Status
Height
Source
Culture
Western
Date(s)
Site
Remains found in the Saint Louis Cemetary
Current Location
Location
U.S Navel Academy
Catalog #
Biography
Edit
Admiral John Paul Jones (1747-1792) was an infamous and well-known Scottish sailor who fought valiantly during the American Revolution. He passed away in the 17th century, on July 18th, 1792, where he was found dead in his home in Paris. He was buried at the Saint Louis Cemetery in New Orleans, USA. It was not until the day of April 7th, 1905, that Jones' remains were found by U.S Ambassador of France (General Horace Porter) and his expedition team who were searching for the admirals' remains.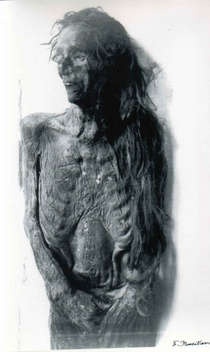 Mummification
Edit
The process of preservation and mummification of John Paul Jones' body occurred due to his body being en-drenched with alcohol and sand. His body had also been encased and buried in a lead casket. After he was discovered, Jones' mummified body was transferred into a marble and bronze sarcophagus. He now resides at the Navel Academy Chapel in Maryland, USA, where he can be displayed in honor of his legendary heroism as a sailor.
References
Edit
The return of a Revolutionary mummy. (2017). Strange Remains. Retrieved 18 March 2017, from https://strangeremains.com/2014/02/15/the-return-of-a-revolutionary-mummy/
Aufderheide, A. C. (2003). The scientific study of mummies. Cambridge University Press.
Ad blocker interference detected!
Wikia is a free-to-use site that makes money from advertising. We have a modified experience for viewers using ad blockers

Wikia is not accessible if you've made further modifications. Remove the custom ad blocker rule(s) and the page will load as expected.